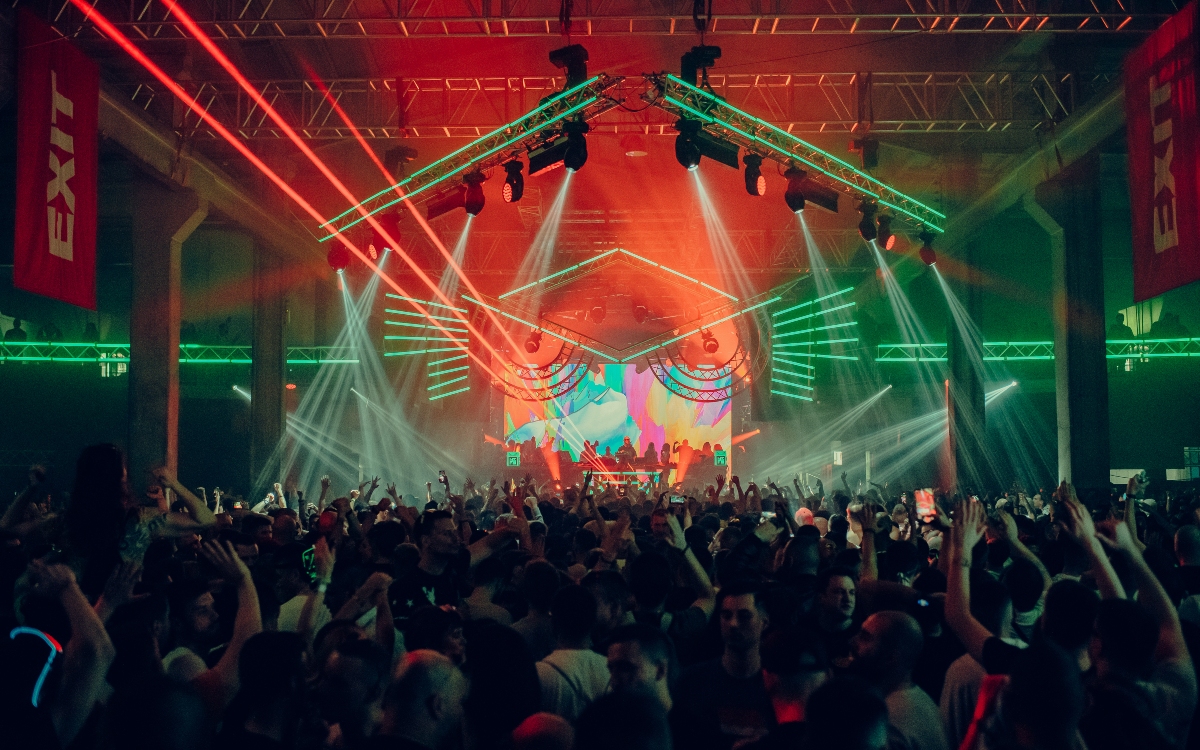 The special spring edition of the No Sleep Festival, held in Belgrade last weekend in front of over 15,000 visitors, has opened a new chapter for EXIT.
This year, members of EXIT's festival family – EXIT, Sea Star, Sea Dance, Ada Divine Awakening, No Sleep, as well as its essential part, the visitors — will be together, free and without borders, as they always should be. This season, EXIT also brings some surprises – at least two more big events are in preparation, in two new countries! More information will arrive soon. The festival summer is headlined by Calvin Harris, Nick Cave & The Bad Seeds, Iggy Azalea, Afrojack, James Arthur, Masked Wolf, Jax Jones, Meduza, Boris Brejcha, Honey Dijon, Maceo Plex, and many others! And all this would have been much more difficult if not for the four big days in July 2021.
EXIT showed last year that the desire to gather, socialise, and dance would overcome all obstacles when it entered music history as the first major festival in the world since the beginning of the pandemic. Global challenges keep coming, and the times we live in are unquestionably uncertain, but festivals, along with everything they bring, provide the necessary liberation through interpersonal contact and music. The short film that EXIT has just released is a reminder of the four days in July last year, representing a culmination of the battle for the global festival industry. At the same time, this film announces the new season of EXIT festivals, in which the two-decade-old community will experience a new triumph!
The success achieved by the EXIT team in 2021 would not be possible without the trust of those for whom the festival exists — its visitors. The festival season could not have started better — more than 15,000 people celebrated the title of Best New European Festival with the No Sleep team at seven iconic Belgrade locations. Many outstanding performers played at the festival, many of whom have been part of EXIT's family for years. No Sleep this weekend took the energy of the audience, the acts, and the EXIT team to the next level. The same feeling, great music, production, and organisation, will accompany EXIT's festivals throughout the year. There are plenty of reasons to continue along the same path — a great programme has already been announced for Sea Star and EXIT. These events will take place at their well-known locations, with a top-level production and fans eagerly awaiting.
Iggy Azalea, Amelie Lens, Meduza, Topic, Konstrakta, Dubioza kolektiv, Umek, Senidah, Buč Kesidi and many others will perform at Sea Star, which will take place on May 27th and 28th in Umag, Croatia.
This will be followed by favourite EXIT at the Petrovaradin Fortress from July 7th to 10th, with huge musical acts having confirmed their performances, including Calvin Harris, Nick Cave & The Bad Seeds, Iggy Azalea, Afrojack, James Arthur, Masked Wolf, Joel Corry, Jax Jones, Alok, ATB, Boris Brejcha, Honey Dijon, Maceo Plex, Reinier Zonneveld, Monolink, Denis Sulta, Mathame, ZHU, ACRAZE, Sama' Abdulhadi, ANNA, Sepultura, Napalm Death, Marky Ramone, Molchat Doma, She Past Away, Brkovi, Paraf, Vizelj, Coach Party, Sana Garić, Prti Bee Gee and many others, with more announcements yet to come!
Two of EXIT's festivals will be held in Montenegro — Sea Dance and Ada Divine Awakening, and entirely new big events in two new countries. More information on that soon. This year's round of festivals will close with another No Sleep Festival in its standard November edition.
The motto of this year's EXIT — "Together. Always!" was inspired by last year's event. We believe, above all else, that 2022 will bring unity, freedom, friendship, and love.