Witnessing how humanity is destroying our planet and making life unsustainable Conscious R:Evolution platform is our answer to evolve collective and individual consciousness in order to achieve completely different way of looking at our planet and our lives.
Every positive change in society occurs primarily as a result of the individual evolution of consciousness. Conscious R:Evolution platform is bringing together some of the leading global speakers, artists, scientists, leaders, entrepreneurs and activists with the aim of discussing possible directions of individual and collective development of humanity through online panels, workshops, retreats and festival. The first six panels viewed more than 400 000 people and the numbers are growing. And fist series of workshops had participants from 44 countries worldwide and 6 continents.
Only united we can save our planet and make life sustainable again, achieving harmony of mankind and the earth!
Visit website
What?
In order to contribute to the development of the music industry in Balkans and the promotion of local performers on the international market, the EXIT Foundation has become a partner of a four-year project "MOST – The Bridge for Balkan Music". This endeavor of great importance gathers important actors of the music industry in the area and unites nine countries through four different competitions for performers, festival organizers, music professionals and urban creatives, with the common goal of celebrating the Balkans as fertile music ground!
The mission of MOST is to strengthen Balkans' music market by connecting and supporting actors of the world music scene: artists, managers, festivals and institutions. The plan is to channel the region's creative potential and cultural diversity into the European musical bloodstream, and to ensure sustainable growth of the sector through a complex training program. MOSTbuilds a bridge made up of personal connections, experience and exchange, thus connecting the Balkan's and the global music market.
Music, more specifically world music, traditional music and other related genres are suitable for cultural exchange, broadening horizons and preserving cultural heritage which are the core values of the MOST project.
Who?
MOST is intended for artists, bands, managers, bookers, agents, promoters, event managers, club owners, festival managersand other professionals of the world music genre who are keen on stepping onto the global scene.
As MOST includes an urban policy branch connecting cities and the music industry, it also brings together urban creatives, decision makers, activists, officials, NGOs, students and researchers working in the field of culture and urban planning.
Geographically, the project's scope includes: Albania, Bosnia and Herzegovina, Bulgaria, Croatia, Montenegro, North Macedonia, Romania and Serbia.
MOST was launched by 9 project partners providing their network and expertise, and the consortium being lead by Hangvető. To see our project partners, go to Partners.
Why?
The Balkans is a region of amazing resources and untapped potential. Most people associate its music with blaring brass and boisterous party tunes, but the peninsula boasts a complex and precious musical heritage that has inspired and shaped European music for several centuries and is vibrant and multifaceted to this day.
However, music from the Balkans still has not reached its deserved place in the global market, with artists, festivals and professionals lingering in relative isolation. The MOST project aims to right this through professional training, audience development, supporting mobility of artists and professionals, event management, platform development, policy suggestions and pilot projects, empowering the region and its representatives within a wider international context.
How?
MOST has four pillars of its training programs ending with the MOST Showcase event in 2023. The training programs have several cycles during the four-year timespan of MOST, including side-programs such as mentoring, showcase visits, creative workshops, internships, etc. MOST will be present at world's biggest music events, such as Budapest's Ritmo or WOMEX.
I. Balkan Music Export – for world music artists and bands
Showcase artists selected for the program will receive professional training and mentoring, assistance in developing their artist portfolio, access to major professional and networking events.
The artists are selected through a thorough and transparent selection process, and will be featured at the Balkan Showcaseevent in Novi Sad in 2021, as well as a similar MOST Showcase event in 2023.
II. Festival Exchange  – for festival organizers
Every year MOST gathers representatives of 20 festivals: 10 from the Balkans and 10 from other parts of Europe. They meet in Brussels at a major music event, connect and have the oportunity to work together, visit eachother and exchange artists within the framework of the program. The exchange aims to improve the professional network of contacts and artistic scope of all participants.
III. Urban Policy Pilots – for urban creatives
MOST acts as an incubator for projects which connect the music sector and cities, aimed at helping the development and implementation of initiatives which draw the ties between the creative sector and the region's urban environments closer. Policy proposals, training and mentoring programs will serve the same purpose.
IV. Management Training – for world music professionals
Each year, 30 participants receive both professional training which will enable them to work effectively on the international scene, and access to major professional events. Half of the participants will be offered 2-4 week long internship placements and one-to-one mentoring.
MOST is supported by Creative Europe, the European Union's framework programme to support the culture and audiovisual sectors.
Visit website
Since 2013, EXIT Foundation in cooperation with NIS Company has been conducting the "Youth Heroes" campaign, aiming to promote positive examples to the youth of Serbia. In 2015 was established National Award of Recognition "Youth Heroes" which is ceremonially awarded to the best achievers in the fields of education and science, entrepreneurship and creative industries, social activism, culture and art.
EXIT's drive in this matter was to pull out Serbian young heroes from anonymity, present them to the public and promote in order to become an inspiration, pride and role models for entire generations. Those are all young people who create in silence and achieve great successes, win medals on international science competitions, improve their local communities, design artistic masterpieces, devise creative ventures and start successful companies, but remain relatively invisible.
Project vision is that these young heroes become role models and ambassadors of their generations and all of us. The result of this multi annual project "Youth Heroes" and its active promotion of positive role models to the youth is to stimulate coming generations to take active part in the society that values knowledge, creativity and work.
Visit website
The Project "Contemporary and Traditional Cultural Tourism Route" (CULHUSRBTOUR) under Interreg-IPA Cross-Border Cooperation Programme between Hungary and Serbia, aims to develop a new tourist route and establish a new cross-border link. Cultural-tourist cross-border cooperation CULHUSRBTOUR was created as the cooperation between the EXIT Foundation, which thus continues the mission to expand the common community in the region, and the National Heritage Park in Ópusztaszer, Hungary. Partners have already organised four tourist events within the year and a half of the project, including music, visual arts, painting and photography, joint art meetings, workshops and study trips to both partner countries, primarily aimed at young people. The results of the cooperation include unique 3D tours of the Petrovaradin Fortress and the National Heritage Park in Ópusztaszer. Through them, historical stories and legends of both sites are portrayed in an interesting and interactive manner. A contribution to the CULHUSRBTOUR project to develop cross-border cooperation reflects in the document study on a new cultural-tourist route between Novi Sad and Ópusztaszer.
Interreg–IPA program prekogranične saradnje Mađarska-Srbija implementira se u okviru finansijskog perioda 2014-2020 Evropske unije, putem Instrumenta za pretpristupnupomoć (IPA). Po principu "zajedničkog sistema upravljanja" zemalja učesnica – Mađarske i Srbije, program finansira i podržava projekte saradnje organizacija iz Programske oblasti – okruga Čongrad (Csongrád) i Bač-Kiškun (Bács-Kiskun) u Mađarskoj i okruga Zapadna Bačka, Severna Bačka, Južna Bačka, Severni Banat, Srednji Banat, Južni Banat i Srem u Srbiji. Program pomaže razvoj i stabilnost pograničnog regiona, unapređuje opšti kvalitet života u njemu, omogućava ekonomsku saradnju organizacija i ove dve zemlje, neguje zajednički identitet, kulturnoiistorijsko nasleđe pograničnog regiona i doprinosi njegovoj ekološkoj održivosti i sigurnosti.
More information: http://www.interreg-ipa-husrb.com/en/home/
Visit website
Observatory reconstruction at Petrovaradin Fortress
EXIT Foundation, joining forces with NIS Company and the City of Novi Sad, has renewed the building "Mala stražara" at Petrovaradin Fortress, used by the Astronomical Society of Novi Sad as Observatory. The Observatory, i.e. the original building "Mala stražara" (Small Guardhouse), was erected in the first half of XVIII century, located in the vicinity of the Communication Gate, near the Hornwork, representing an important structure of cultural heritage, whose renewal would contribute to the offer of the entire Fortress complex, as well as the tourist offer of the City of Novi Sad.
The reconstruction of "Mala stražara" was completed on the last day of June 2018, conducted under direct supervision of the Provincial Institute for the Protection of Cultural Monuments, and the comprehensive conservation-restauration works were executed based on their project. Mission of EXIT Foundation is to, along with promotion of the Fortress as one of the most attractive festival and tourist locations in the world, improve and preserve this fortification structure as the most significant historical, cultural and tourist complex, through implementation of the long-term project.
Read more
Nomination for Novi Sad 2021
EXIT Foundation team led the candidacy of Novi Sad for European Capital of Culture in 2021 to victory. The expert team of European Commission comprising ten independent experts decided on 13 October 2016 in Brussels, that Novi Sad would be the European Capital of Culture in 2021, apart from Timisoara.
With the slogan "For New Bridges "Novi Sad had won victory over Herceg Novi in the final round, thus becoming Capital of Culture in the selection of cities that come from the countries – candidates for membership in the European Union. Novi Sad is a certified part of European cultural heritage, a city where different cultural identities interweave, where the culture of peace is being achieved, and where conditions for accomplishment of various cultural expressions are being developed constantly.
Visit website
EXIT Foundation initiated and led the candidacy of Novi Sad for European Youth Capital in 2018 and brought the City to the final round, whereas the youth organisations of Novi Sad continued with the started process and led the candidacy in 2019, achieving the victory for Novi Sad.
City of Novi Sad candidacy for European Youth Capital in 2019 was a sort of invitation to the youth to actively participate in own development and construction of their independence, and that was the reason for the candidacy motto "Novi Sad – OPENS its doors".
Dedicated activism and continual work brought City of Novi Sad the title European Youth Capital 2019, after four years, covering over 500 activities, actions, campaigns and projects.
This title is granted to a European city for a period of one year, during which the selected city is offered to present its cultural, social, political and business life as well as the youth development programmes through multipurpose events. Novi Sad was granted the title in the second attempt, and it was selected for the final round a year earlier.
Visit website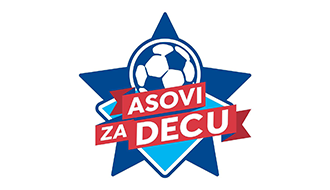 At the Aces for Children match held in May 2016 at the Partizan Stadium in Belgrade, organized by the EXIT Foundation and NURDOR, with the support of FC Partizan, TV Prva and numerous other organizations and individuals, the biggest football names, coaches Radomir Antić and Bora Milutinović, together with Stanković, Mijatović, Žigić, Jovanović, Kežman, King, Delibašić, Ilić and many other aces, delivered a lesson primarily in humanity, playing together for the same purpose – raising funds for the construction of a Niš clinical ward for children with cancer. That Serbia did not forget to unite when it was most needed was shown by the broadcast of the "Match of Life" on TV Prva, which was the most watched TV program in Serbia that evening. Over 14.5 million dinars were raised at this match, while the Foundation's fundraising activities for the construction of a paediatric haemato-oncology ward in Niš continue today.
The next humanitarian football match was played in Užice in April 2017 under the slogan "Aces of Western Serbia for Children". The teams consisted of numerous prominent football players, led by coaches Milovan Rajevac and Radovan Ćurčić, and the funds raised were intended for the Užice Center for artificial and in vitro fertilisation.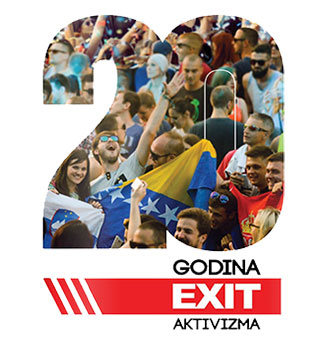 In response to the growing national tensions in the region, on the initiative of the EXIT team, an informal group of prominent artists and public figures from Serbia, Croatia and Bosnia and Herzegovina has drawn up an open letter to the public.
The signatories to the text on behalf of the Silent Balkan Majority were directors Oliver Frljić and Kokan Mladenović, actors Zoran Cvijanović, Sergej Trifunović, Nenad Okanovicć musicians Ida Prester (Lollobrigida), Dino Caran (LetuŠtuke), Nemanja KojiĆ (Hornsman Coyote), one of the founders of the Resistance and Visiting Lecturer at Harvard University, Srdjan Popović, EXIT founder Dušan Kovačević, Director of Novi Sad Student Cultural Centre, Zdravko Vulin, playwright and founder of Mixer, Ivan Lalić, journalist and writer Branko Rosić, and numerous others, urging the public in the letter to openly oppose extreme nationalist  rhetoric that has taken over the region, with increasing frequency of fascist and ultra-right slogans.
Creative Climate Leadership
EXIT Foundation, in partnership with organizations across Europe, actively promotes the importance of environmental awareness in the Western Balkans region, and with the network of Europe's most prominent theatrical institutions, has launched a Creative Climate Leadership programme for artists and cultural professionals to explore the cultural dimensions of climate changes and take creative and flexible action of significance for the future of our planet.
Creative Climate Leadership brings together eight European partners representing a wide geographical reach, a specialty in a variety of art forms, different approaches to building capacity for influencing environment through the entire creative sector of Europe.
Visit website
View Report
Regional Youth Tourism Fair, YOUTH FAIR, brings together the most attractive youth destinations in the Balkans (as well as festivals, clubs, centres for extreme sports and many other undiscovered attractions in the region), tourist organizations and tourist agencies involved in the promotion of youth tourism, as well as NGOs involved in the regional integration of youth in the Western Balkans.
The aim of the fair is to position the Balkans as one of the most attractive destinations for young people in the world through a joint regional initiative. Youth tourism, which globally receives more than € 100 billion a year, represents a great potential for all the countries in the Western Balkans region, and such mutual promotion and association can maximize the impact for each country individually.
Visit website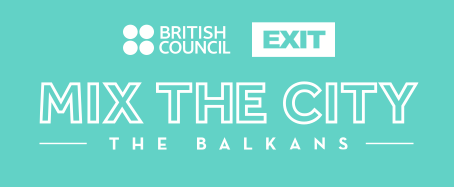 Mix the City – The Balkans
In 2016, the British Council and EXIT Festival invited British musician Ghostpoet and 12 local performers from across the Balkans to create a unique music experience that tells the unexpected story of our region, encourages conversation among people and fosters friendly relations between them. This initiative also invited the audience to engage in the interactive platform.
By mixing recorded audio samples performed by 12 artists who physically may have never met, each user could use their creativity to bring together and connect eight selected Balkan cities. The result of every interaction with the Mix the City platform was a unique video clip that combined a user-generated audio mix with artist videos and authentic landscapes shot across the Balkans.
Read more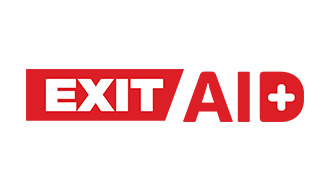 EXIT AID – a program for assistance to those who were hit by unprecedented floods, marked the social work of the EXIT Foundation in 2014 by organizing a large number of actions in cooperation with music stars, the B92 Fund, the Blic Foundation, VODAVODA and EXIT volunteers.
The most significant action of the EXIT AID program was the organization of BE HUMAN event in Budva during the Sea Dance Festival. During the two-night exclusive party, featuring the festival's main stars, Jamiroquai and DJ Example, and donor dinners, over 140,000 euros in aid for the needy were raised in association with the Municipality of Budva.
(Re)brand Serbia – National branding of Serbia
So far, three major RE: BRAND SERBIA national branding conferences have been organised, bringing together top international and domestic experts on the topic of national branding, with the aim of raising public awareness, media and decision makers about the importance of national (re) branding of Serbia.
In the last 16 years, EXIT has, as a rare Serbian brand, contributed to changing of Serbia's bad image and sending a positive image to the world. Bearing in mind that since 2000, tens of thousands of articles and reports have been published by leading foreign media positively reporting on the festival and Serbia, and that over one million foreign guests have visited EXIT, the decision of the EXIT Foundation sounds logical – to engage from 2013 systematically and for a long period of time in national branding and promotion of Serbia.
Poseti sajt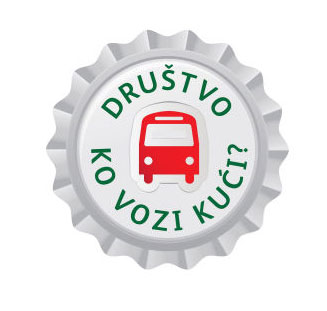 Guys, who's driving home?
The Traffic Safety Agency, HEINEKEN Serbia and the EXIT Foundation have teamed up to increase the security of visitors to the EXIT Festival. The partnership strategy, which has been ongoing since 2014, is to raise awareness of the safety of young people in the first place and the importance of responsible consumption through socially responsible action that moves the boundaries in the area of social responsibility – "Guys, who's driving home?".
This initiative consists of several dimensions: from safe and free transportation through taxi vouchers, to various educational activities. Thousands of visitors from Belgrade and Novi Sad have had the opportunity to come and return home safely and free of charge using organized taxi transportation.
Serbian Creative Industries Conference
The Conference of Creative Industries of Serbia (CCIS) organized by EXIT Foundation and Mixer was held on 28 February and 1 March 2014 at the Mixer House in Belgrade. The key question of CCIS was how to reach developed creative industries from resourcefulness, the local name for creativity, as a chance for new employment, development of culture and economy of Serbia.  The goal of the CCIS was to establish the foundations for further development of Serbia's creative industries through the exchange of knowledge and experience from the country and abroad, science and practice.
The conference brought together some of the leading players in the creative industries such as: EXIT, Mixer, Serbian Film Association, Publicis Group Serbia, Eipix Entertainment, Nishville Jazz Festival, Creative Economy Group, Belgrade Fashion Week, RTV B92, Belgrade Dance Festival, etc. Over 500 representatives of the professional public, academics, journalists, students and interested citizens, attended the conference during the two days.
Poseti sajt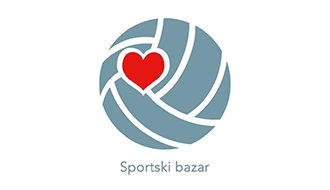 In December 2016, a Humanitarian Sports Bazaar was organized at the Mixer in Belgrade, organised by the EXIT Foundation and the Mixer. It was a unique opportunity for people to socialise with athletes from their favourite clubs, writers, actors, musicians, presenters and other celebrities. Visitors were able to buy personally sports equipment, props, books and T-shirts from their favourite shows, and over 1.6 million dinars were raised during the Sports Bazaar for building the Niš hospital wing for children with cancer.
Following the successful charity match "Aces for Children", which raised € 120,000 for the construction of a hospital wing for children with cancer in Niš, NURDOR, Halo oglasi and EXIT Foundation launched a unique charity campaign "Ads for Life" with the aim to finalise this capital project.
The idea is to sell and buy used and new things on a separate page of Halo oglasi www.oglasizazivot.rs and that all the proceeds go towards the construction of a new wing of the Children's Oncology Hospital in Niš. The importance of the action was also recognised by celebrities – Dr Nele Karajlić, Nikola Kojo, Mirjana Karanović, Jovana Brakočević, Slobodan Šarenac, Slavko Beleslin, Nataša Miljković, Marčelo, Disciplina Kičme, Bad Copy, SARS, Dubioza Kolektiv, Brkovi and many others, were selling personal belongings that were of sentimental value to them.
Visit website