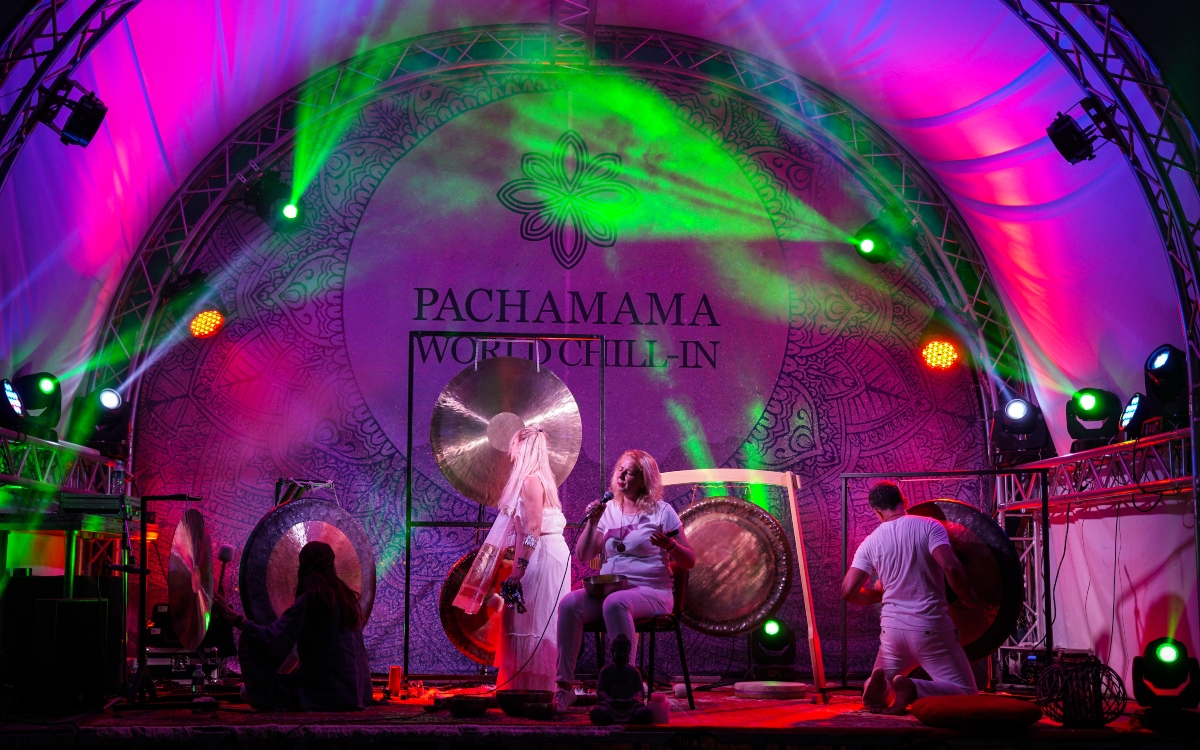 EXIT's Pachamama Stage, powered by MOST Music, with the support of Creative Europe, presents top acts in meditative and spiritual music this year. Mose, Maya Kamaty, Praful, Fia, and Laor will give the audience unique energy on the most colourful stage of the festival, with more announcements from the Balkans World Music scene yet to come! With this year's line-up on the Pachamama Stage, EXIT begins a new musical chapter, and the global followers of the mindfulness movement get a place to enjoy performances from leading international acts in the Conscious Music genre.
Performer, producer and DJ Mose arrives to the sound of multicultural rhythms and leads the audience on the path of self-discovery and soul-searching. He brings Guatemalan spiritual customs with him, which are at the core of his mesmerising music. His performances feature emotional singing, inviting people to feel love and empathy and embark on a dance without borders.
Musician and activist Maya Kamaty, whose arrival is supported by the French Institute in Belgrade, will be the voice of change at the festival. Her music encapsulates the struggle for freedom, poetry, feminism, tenderness, and spirituality. From the island of La Reunion, where she was born and raised, she brings a story of colonialism and oppression, culture, but also nature, grounding, the beauty of the island's diverse ecosystem and her own experience in that environment. She has always wanted to tell the story of her island through music, an island that has been isolated and closed off to the world, although, as she says, it is adorned by completely open-hearted people.
Praful heals his audience with music. This multi-instrumentalist takes you on a journey of the soul through notes and chords. He studied the powerful connection between music and the process of self-healing in temples in Pune and around the world. He then brought to the world an energetic and playful sound that combines shamanic powers, spirituality, medicine, and ecstasy. During his performance, he creates symphonies that bring the listeners inner bliss, complete connection, and a path to their essence.
Singer/songwriter Fia will also perform on the Pachamama Stage. Her melodies are like walking through the woods, and her lyrics lead the audience to catharsis. Since the release of her debut album "Made of Stars" in 2016, Fia has been touring around the world, representing parts of her native Stockholm through incredible love and mysticism.
The fantastic LAOR is the leading voice in healing music. For almost 20 years, she has researched the powers of the human voice to inspire people to breathe, connect, sing, and pray. Her approach to music comes from theatre, yoga, and research into the connection between medicine and music.
Pachamama Stage will celebrate its sixth birthday this year with a new, magnificent look. It will once again remind us of the original values of the EXIT Festival — freedom, harmony, peace, nature, togetherness, joy, and love. Pacha Mamma, or Earth Mother, is a lifestyle in which people fully commit to nature, striving for the sustainability and cyclicality of life. Pachamama gathers people from all over the world in one energy field to first slow down and then relax the mind, body, and spirit in complete synergy.
The EXIT Festival will take place at the Petrovaradin Fortress from 7th to 10th July and feature massive global and regional stars such as Calvin Harris, Nick Cave & The Bad Seeds, Iggy Azalea, Afrojack, James Arthur, Masked Wolf, Joel Corry, Jax Jones, Alok, ATB, Boris Brejcha, Honey Dijon, Maceo Plex, Reinier Zonneveld, Monolink, Denis Sulta, Mathame, ZHU, ACRAZE, Sama' Abdulhadi, ANNA, Sepultura, Napalm Death, Marky Ramone, Molchat Doma, She Past Away, Konstrakta, Brkovi, Paraf, Coach Party, Noisia, Deca loših muzičara, Sana Garić, Vizelj, Prti Bee Gee and many others with new announcements coming soon!
Four-day tickets are on sale from 95 EUR +b/f. When this limited contingent is sold out, the ticket price will increase.
One-day tickets for Friday, 8th July, including the performance of Nick Cave & The Bad Seeds, are on sale at early-bird prices: regular tickets at 34 EUR+bf, fan pit at 44 EUR+bf, and VIP tickets at 100 EUR +bf.
Tickets can be purchased here and via sales locations.