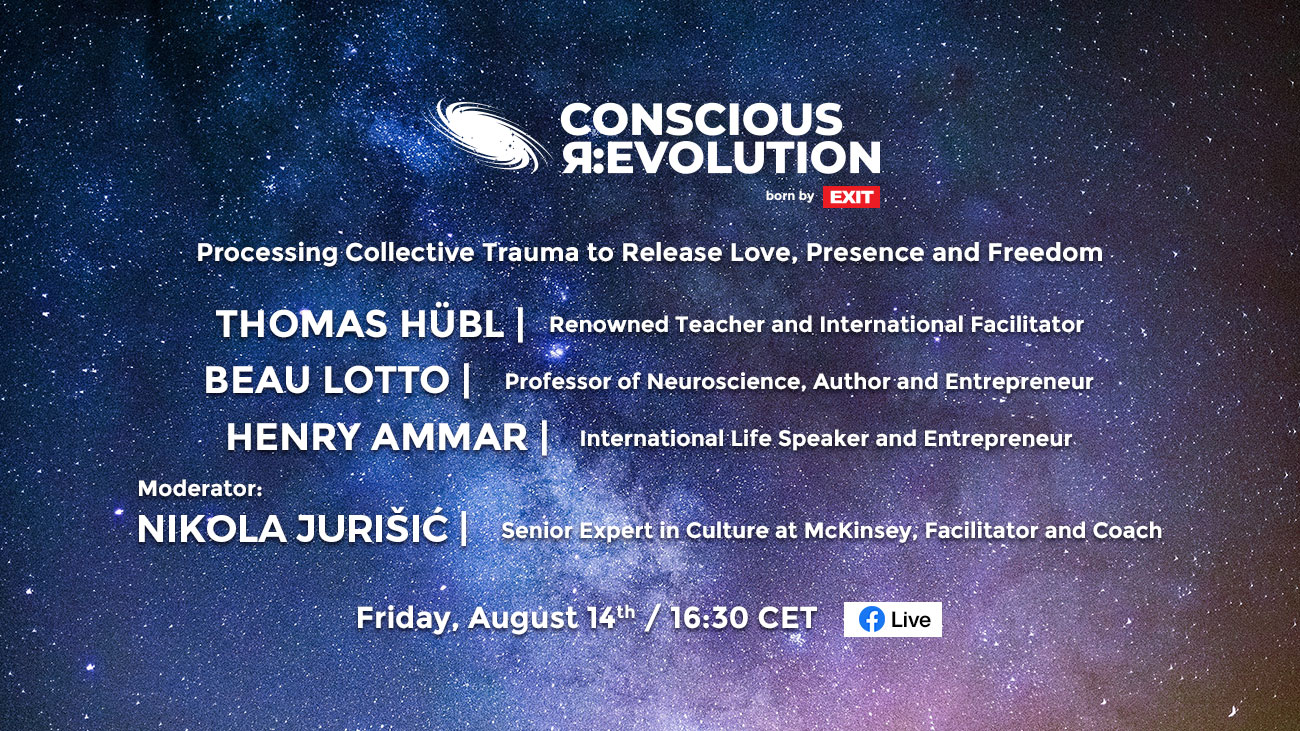 Last Friday, as a part of EXIT's Conscious R:Evolution platform, a third panel discussion was held under the title "Collective Trauma Relief". After the first two discussions which dealt with activism in the next 20 years and the importance of environmental protection, this time the focus was on how an inherited collective trauma affects our lives.
The panel participants were Beau Lotto, PhD, a professor of neurology, author and entrepreneur, whose speeches have been heard by more than 9 million people worldwide, Henry Ammar, international motivational speaker, entrepreneur and host of Top 10 podcast "Making It Happen with Henry Ammar", and Thomas Hubl, renowned teacher and international facilitator, founder of the Academy of Internal Science, while the host was Nikola Jurišić,  senior expert in culture at McKinsey, specializing in building values driven societies.
Collective Trauma Relief

The purpose of the discussion was to emphasize the importance of raising awareness of the presence of a collective trauma and finding ways of dealing with it effectively. Trauma, whatever its causes, affects all people equally and leaves a trace visible not only in the affected generation but also in the generations to come. The panelists agreed that the key to processing and dealing with any trauma is to build an awareness of the trauma and to understand its presence and impact on our lives and future behavior. Consciousness is important because only with consciousness can we have a choice. If we realize that we are reacting under the influence of our assumptions, beliefs and biases, which we have inherited from family, parents, culture and our environment, we have the opportunity to choose how we shape our future.
Beau Lotto pointed out that one of the most important ways of dealing with trauma was to understand it and only once we have understood it do we have the opportunity to be proactive, to learn and to grow from that experience. At the moment of trauma, we have a choice, to act as always and indulge in anger or hatred or to turn to love, care and kindness. Precisely in that conflict lies our choice which defines that moment and the direction in which we will move forward.
Thomas Hubl drew attention to the importance of the relationships we have and develop with other people, and that these relationships serve as medicine in a traumatic situation, while Henry Ammar believes that each of us can play a significant role in the great collective and thus affect the world around us. Each of us can make a change in our own environment while together we can change, elevate and heal this world, through a conscious revolution.