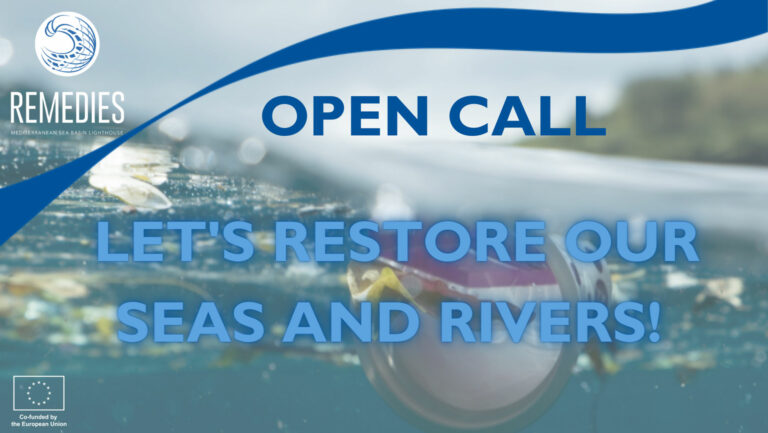 REMEDIES, a project of which EXIT Foundation is a proud partner, is launching an Open Call providing financial support of up to 100,000 euros and innovation services to stakeholders working towards the plastic collection and valorizaton of litter in the Mediterranean.
REMEDIES project was initiated with the target of achieving a #PlasticLitterFree future. Its mission is to create innovative solutions and technologies to monitor, collect, prevent, and valorise (micro)plastic from our oceans.
We invite an innovative public sector that aims to accelerate the deployment of plastic litter collection schemes, promote and explore innovative ways to transform plastic waste into valuable products or resources to apply to this call.
The REMEDIES project's Open Call 1 presents a valuable opportunity for stakeholders in the Mediterranean region to receive financial support and innovation services for projects focused on plastic remediation and protection. By actively participating in this open call, applicants can contribute to building a more plastic-conscious society and creating a sustainable future for our oceans.
The Open Call 1 offers maximum funding of €200,000, with up to two sub-grants of €100,000 per applicant to public entities in the Mediterranean area. Applicants must be from Member States and/or Participating Countries in the Mediterranean region, excluding countries where the REMEDIES partners are located, namely: Slovenia, Greece, Germany, Croatia, Spain, Belgium, France, Albania, Serbia, Ireland, Morocco, and Italy.
Successful applicants selected in the Open Call 1 will receive various types of support, including:
Implementation Support:
Financial support of up to 100,000 euros for 6 months,
Access tools, and resources,
Tutorials, mentors, and webinars,
Networking and connections with key ecosystem stakeholders,
Access to use-cases for piloting their solutions.
The financial support will be provided in two stages, at the beginning of the project and at the end of the implementation, within the six-month duration.
Each selected applicant should present a plan with milestones and key performance indicators (KPIs) to demonstrate its impact and added value. The implementation of the proposed plan will be supported by assigned mentor(s) from the REMEDIES project, to be defined by geographical proximity/similarity and technical and scientific proximity and/or complementarity.
Application timeline:
Launch: September 15, 2023 (12:00 PM CET)
Deadline: November 15, 2023 (17:00 CET)
For more information and start your application:
To access the full Open Call 1 information please consult the Guide for Applicants in the Open Call 1 announcement in REMEDIES website here. Please be aware that you should read this document before you apply.
Access the application here: https://www.f6s.com/open-call-1-remedies/apply
Please note that to proceed with the application you need to have to own or create a F6S account: https://www.f6s.com/
For any specific questions about the OC1 please contact the REMEDIES OC management team: [email protected]
For complete details, guidelines, and eligibility criteria, please visit the REMEDIES website. For direct questions please contact [email protected].
About REMEDIES:
REMEDIES is an Horizon Europe innovation Program creating innovative solutions and technologies to monitor, collect, prevent and valorise (micro)plastic from our oceans. Our approach is rooted in science, circularity, and community engagement aiming to protect water ecosystems, reduce pollution and develop a climate-neutral blue economy. In the next 4 years, 23 Partners from 12 countries will showcase 12 breakthrough innovations from validation and demonstration, to system prototyping in operational environments. The innovative solutions will be tested in 9 demonstration sites in 8 Mediterranean countries. 33 new sites will follow in order to scale them across the whole Mediterranean.
Follow us:
Remedies.eu
Facebook
Twitter
LinkedIn
Instagram
For media inquiries, please contact:
Violetta Tsitsiliani
Communications Manager
[email protected]
Impact HUB Athens
REMEDIES Project was launched at the beginning of the year by the National Institute of Chemistry from Slovenia, in cooperation with 22 partners from 12 different countries, 60 representatives and more than 20 local stakeholders, and aims to attract public interest in the creation and use of means to heal the oceans, seas and water, through the monitoring and collection of plastic waste, and, above all, through the prevention of new pollution.
The main goal of the Project is to start the trend of preventing the creation of plastic waste by engaging the general public, implementing joint actions, and building a more environmentally conscious society on the local, European, and global levels.
Concrete steps towards that goal will be monitoring macro and microplastic waste in eight Mediterranean areas, collection and valorisation of more than 422 tons of plastic waste, preventing further deposition of more than 61 tons of plastic, reaching over 250,000 people and engaging more than two thousand citizens, as well as increasing zero-waste initiatives in over fifty European cities. REMEDIES innovations will be presented in different countries and occasions, with the aim of providing examples of good practice and their further application, and one of those occasions will take place at one of the EXIT festivals at the Adriatic Sea in 2025.
The list of all REMEDIES Project partners:
Lista svih partnera projekta REMEDIES:
Marine Conservation Greece (MCG) – Greece