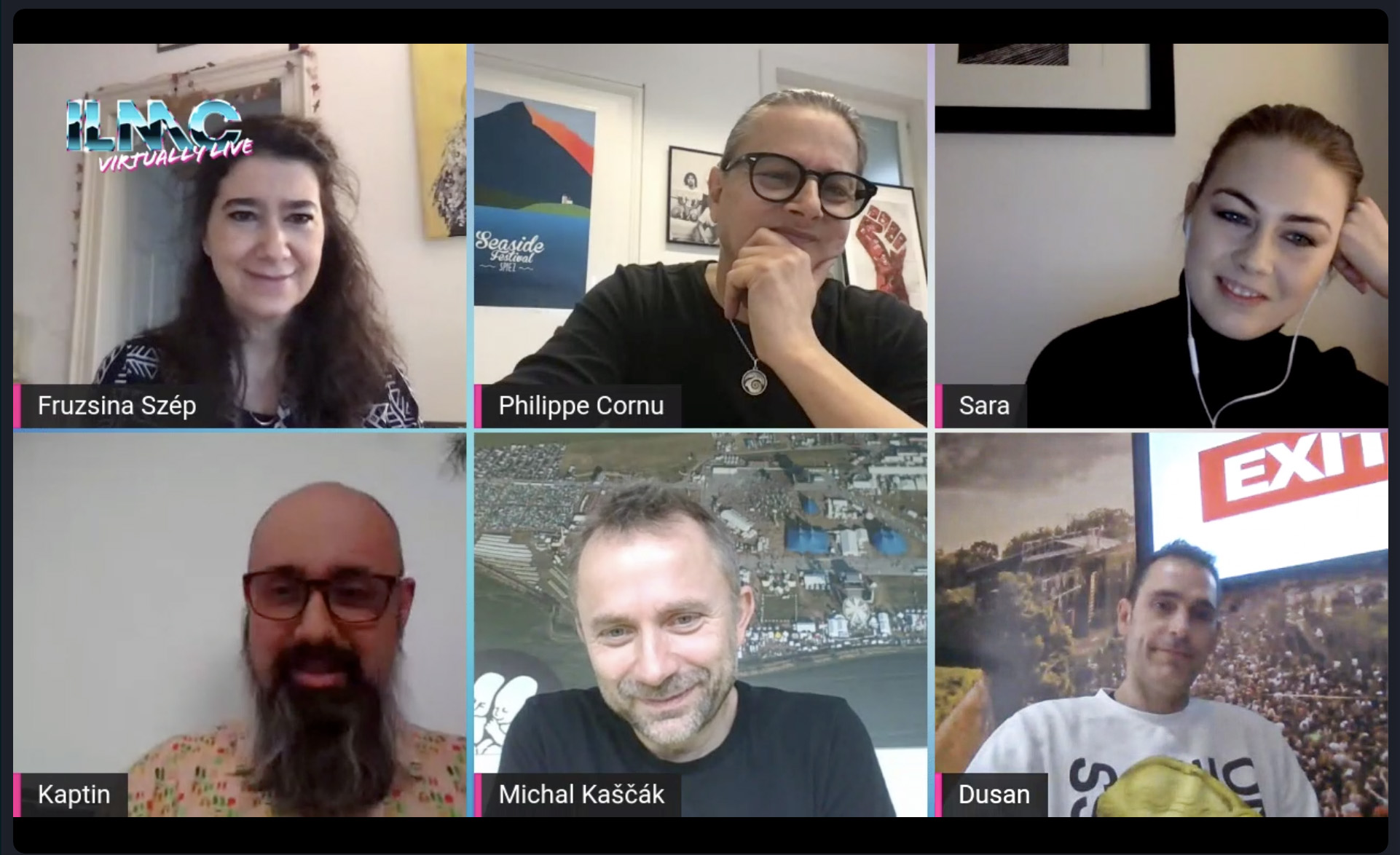 Optimism and positive vibes prevailed at the panel "Festival Futures: Core Priorities" held as part of the 33rd edition of ILMC, one of the largest global conferences in the music industry. Festival experts, including Sara Maria Kordek (Good Taste Production), Michal Kaščák (founder and director of Pohoda Festival), Philippe Cornu (Berne Gadget abc Entertainment), Kaptin Barrett (Boomtown Fair), founder and director of EXIT Festival Dušan Kovačević, and moderator Fruzsina Szép (director, Goodlive / Superbloom) exchanged their experiences from 2020 and shared their opinions on what will happen in the coming months.
The festival industry is optimistic about the future, which is a viewpoint shared by all panel members. Dušan Kovačević particularly emphasized the key festival-related news in recent weeks — a sort of "seal of approval" from British Prime Minister Boris Johnson. He announced the country's full opening by the 21st of June, which will lead to the return of concerts and festivals to the island, while British people will be allowed to travel abroad.
"Serbia has one of the best vaccination rates in the world, and there is no reason our country should not follow Britain's example when it comes to the return of concerts and festivals, so we are convinced that EXIT will take place on the planned dates, "said Kovačević and added "festivals, in addition to being of great economic and promotional importance to the host country, are invaluable for the mental health of young people, which was completely neglected during the pandemic, although it is one of the critical factors for the overall health and well-being of people. "
Fruzsina Szép particularly emphasized that two years without festivals would be extremely disastrous, both for the industry that employs hundreds of thousands of people, which could not withstand it and all young people for whom going to festivals is an integral part of growing up. Philippe Cornu stressed that "people become more creative in these situations, "while Michal Kaščak emphasized that we will all turn to artists for support once again.
"There is a future for our industry and our fans. This has been the most challenging year of far, but we have survived many things. Solutions and the way back are before us! "– with these words, Fruszina concluded an incredibly inspiring panel that was attended by a large number of conference participants, who expressed exclusively words of praise for everything that was said during the discussion that lasted more than an hour.
This year's edition of ILMC, which was held online for the first time due to the coronavirus pandemic, featured more than 250 speakers and 1,000 participants, the largest number in the long history of one of the most important conferences dedicated to the music industry. In addition to the panellists mentioned above, this year's distinguished participants included other music industry greats, such as Irving Azoff (Azoff Music), Klaus-Peter Schulenberg (CTS Eventim), Emma Banks (CAA), Lucy Dickins (WME), Pandora founder Tim Westergren, and Mumford & Sons band member Ben Lovett.