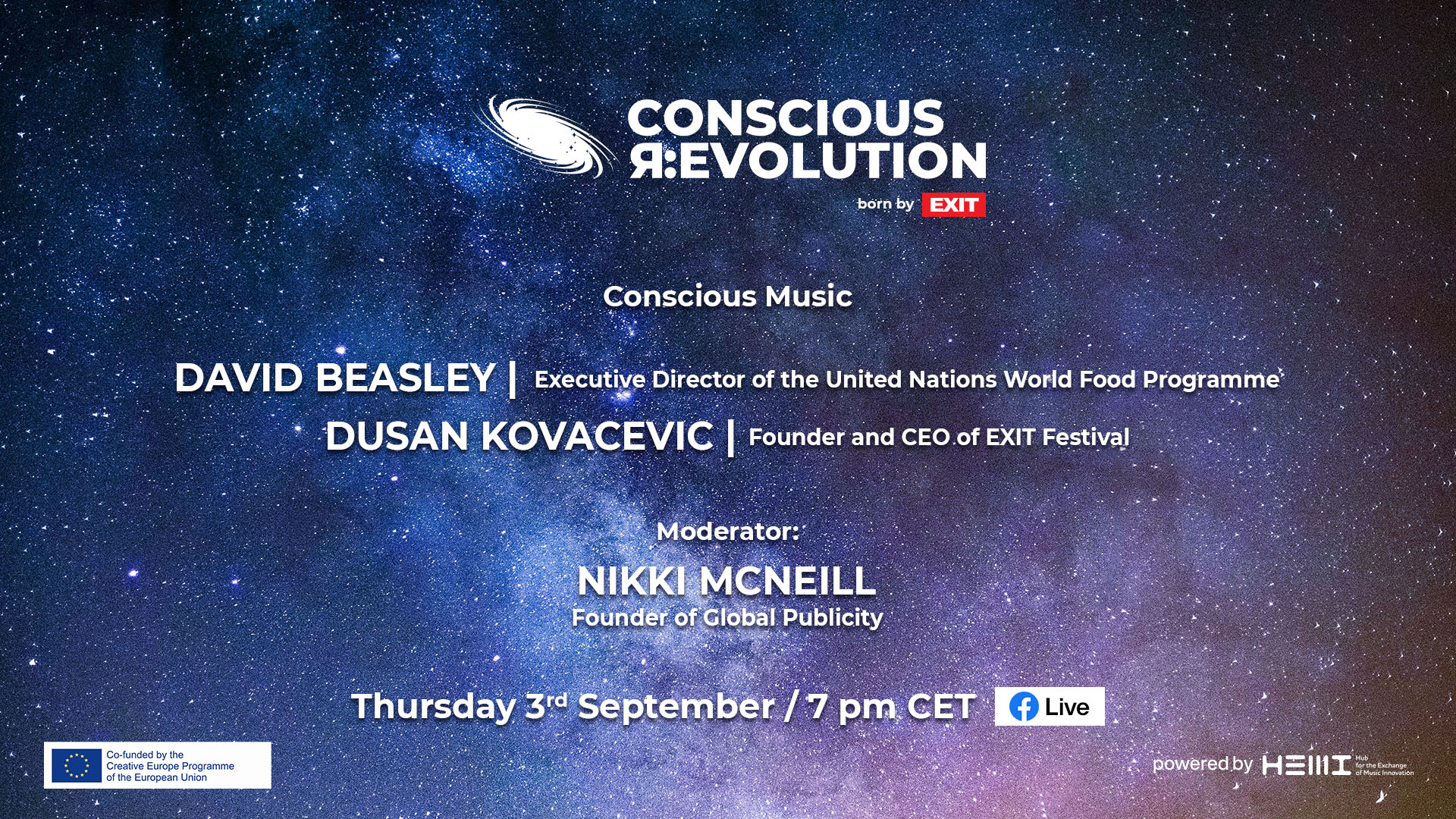 Fifth panel in a row within EXIT Festival's Consciousness R:evolution platform, named Conscious Music, will be held on Thursday, September 3rd starting at 7PM CET, and will mark the official start of the Life Stream event.
In a new exciting encounter, after four great panels, viewed more than 100,000 times, panelists will discuss how music and the creative sector can contribute to raising awareness and helping humanitarian and environmental causes.
The panelists will be:
David Beasley, executive director of the United Nations World Food Programme.
Dušan Kovačević; founder and CEO of the EXIT Festival.
The host of the discussion will be Nikki McNeil, founder of one of the most successful public relations agencies in the music industry, Global Publicity.
The Conscious Music panel will be held within the four-year HEMI project supported by the Creative Europe program and will mark the beginning to the Life Stream event, which will take place between September 3rd and 6th at the Petrovaradin Fortress in cooperation with the United Nations World Food Programme, the largest humanitarian organization in the world fighting hunger.
On behalf of the World Food Programme, David Beasley will talk about the organization's work and the major hunger problem to which the Life Stream project is dedicated, and the way climate change is linked to hunger and how the organization helps vulnerable communities to cope with the effects of climate change.  Dušan Kovačević will talk about EXIT Festival's social activism, in the last 20 years, as well as the Life Stream project, EXIT Festival's largest environmental endeavor to date.
The Life Stream project enters its new phase in September in partnership with the United Nations World Food Programme. The project, which was launched last year and together with the Green R:Evolution project represents EXIT Festival's largest environmental endeavor so far, in cooperation with the world's largest humanitarian organization expands its scope, and in addition to environmental protection, highlights the problem of ending extreme hunger for millions of people around the world. Given that the pandemic and quarantine measures will bring as many as 270 million people to a state of extreme hunger before the end of 2020, which is an increase of 80 percent compared to last year, and the consequences will be most severe for those who are already vulnerable. During the artists' performances, videos and messages on the topic of environmental protection and the hunger crisis will be broadcasted.
The panel will be broadcast live on Thursday, September 3 starting from 7 PM CET on EXIT Festival's official Facebook page.