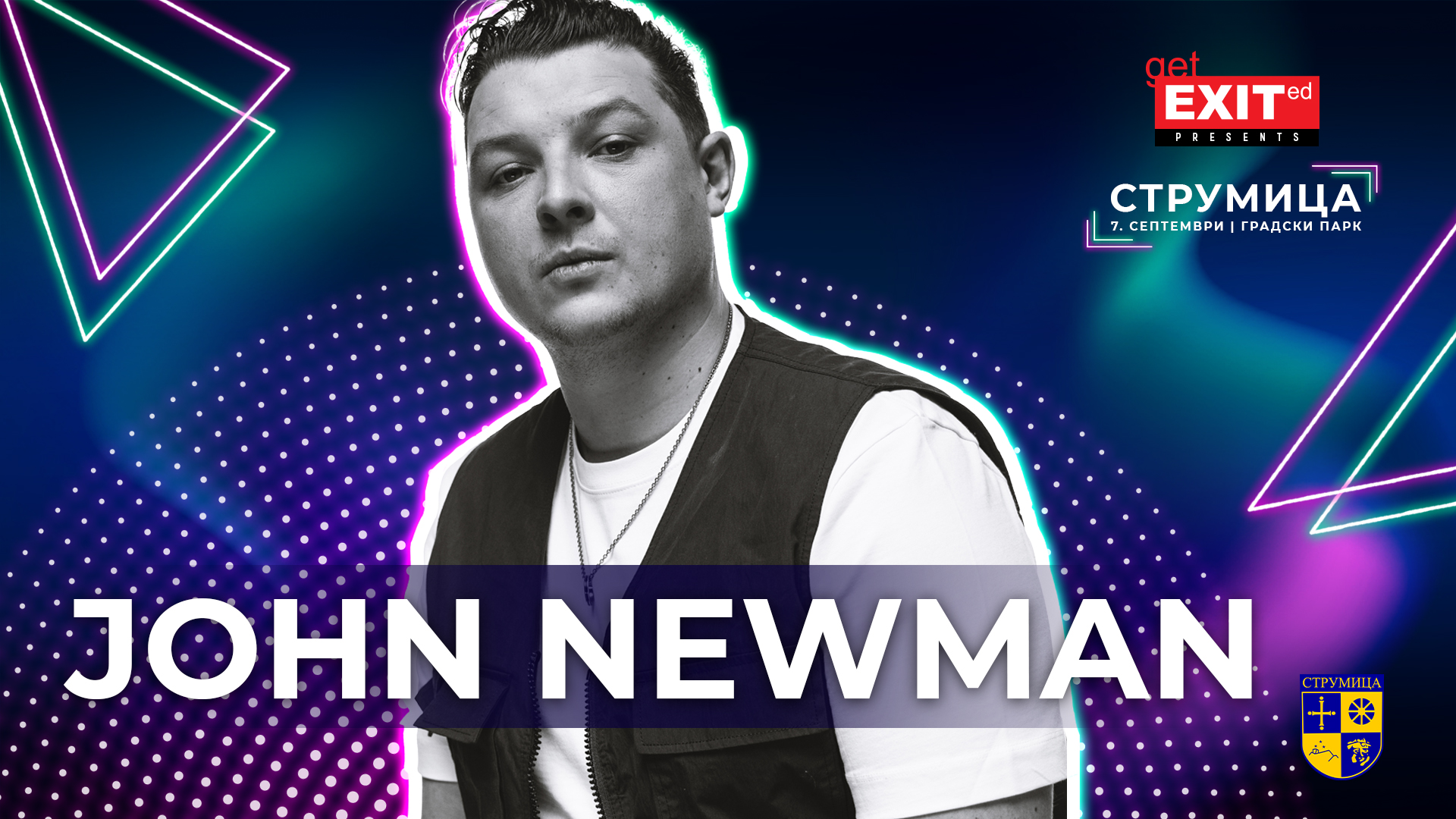 The second installment of Get EXITed event is heading to Gradski park in Strumica on September 7, boasting both global and regional music sensations!
This EXIT spectacle, which saw an attendance of over 20,000 last year, will feature a mega-star — the unique producer, singer, songwriter, and DJ John Newman, who has long held a reputation as a pop and soul star. Joining him will be the mastermind behind numerous global hits, Burak Yeter, who kept tens of thousands of fans dancing until dawn with his electrifying performance this year at EXIT Festival's Gorki List Main Stage. They'll be joined by the unparalleled Konstrakta, with more artists to be announced soon. Organized by EXIT team in collaboration with the Strumica municipality, entrance to Get EXITed Strumica event is free, but VIP tickets are available for those looking for an elevated experience, priced at 3,100 MKD.
"Since the inception of EXIT, visitors from North Macedonia have been among the most numerous. We're thrilled to once again bring the vibrant energy of EXIT festival to Strumica. Last year's event surpassed all expectations. Accommodations in and around Strumica were fully booked as tourists poured in from all over the region. On September 7, powered by the biggest global and regional music names, we'll be setting an even higher tempo," said Dušan Kovačević, founder and director of EXIT festival.
John Newman, the dominant pop/soul star with over 2.5 million streams and a whopping nine chart-topping hits, is set to deliver a unique hybrid performance in Strumica, showcasing his most prominent tracks. He's collaborated with music industry giants like David Guetta, Calvin Harris, Alesso, Rudimental, Sigala, Nile Rodgers, Galantis, and Kygo. With standout performances, like closing Coachella alongside Calvin Harris and delivering breathtaking live shows at world-renowned events like EXIT and Glastonbury, he's a force to be reckoned with. His recently released track "Call Your Name" with Alesso, destined to be a global hit, has even been named "Tune of the Festival" at the famed Tomorrowland. Some of Newman's global anthems include "Blame" (feat. Calvin Harris), "Love Me Again," "If You Really Love Me" (feat. David Guetta), "Feel The Love" and "Not Giving In" (feat. Rudimental), "Cheating" and many more.
Adding to the line-up is Burak Yeter, the Turkish producer, hitmaker, and DJ with almost a billion views on YouTube alone. For the past decade, tracks like "Crash," "Friday Night," "Happy," and "Oh My My" have been conquering airwaves and festival stages worldwide. His hit "Tuesday" earned platinum certifications in multiple countries, and his poignant remix of "My Life Is Going On" received widespread acclaim. Having previously lit up Gorki List Main Stage at this year's EXIT Festival, he's a proven superstar, captivating thousands with his energy and atmosphere.
Konstrakta was the first name announced for this new edition of Get EXITed event. A standout musician in the region and beyond, she took the world by storm with her song "In Corpore Sano," shining a well-deserved light on her brilliance. Those unfamiliar with her previous solo endeavors found her style refreshingly unique and authentic. "In Corpore Sano" is part of her "Triptih" project, which also includes tracks "Nobl" and "Mekano," all penned by Konstrakta herself. Another triptych followed – "Evo, obećavam," cementing Konstrakta's distinctiveness and the high visual and musical standards set by her and her team while conveying powerful, socially conscious messages.
John Newman, Burak Yeter, and Konstrakta will bring diverse and high-quality music to the picturesque Gradski park in Strumica, while more acts will be announced soon! Entry to the grand Get EXITed party is free, but for those keen on savoring this spectacular event at its finest, VIP tickets are available at 3,100 MKD.