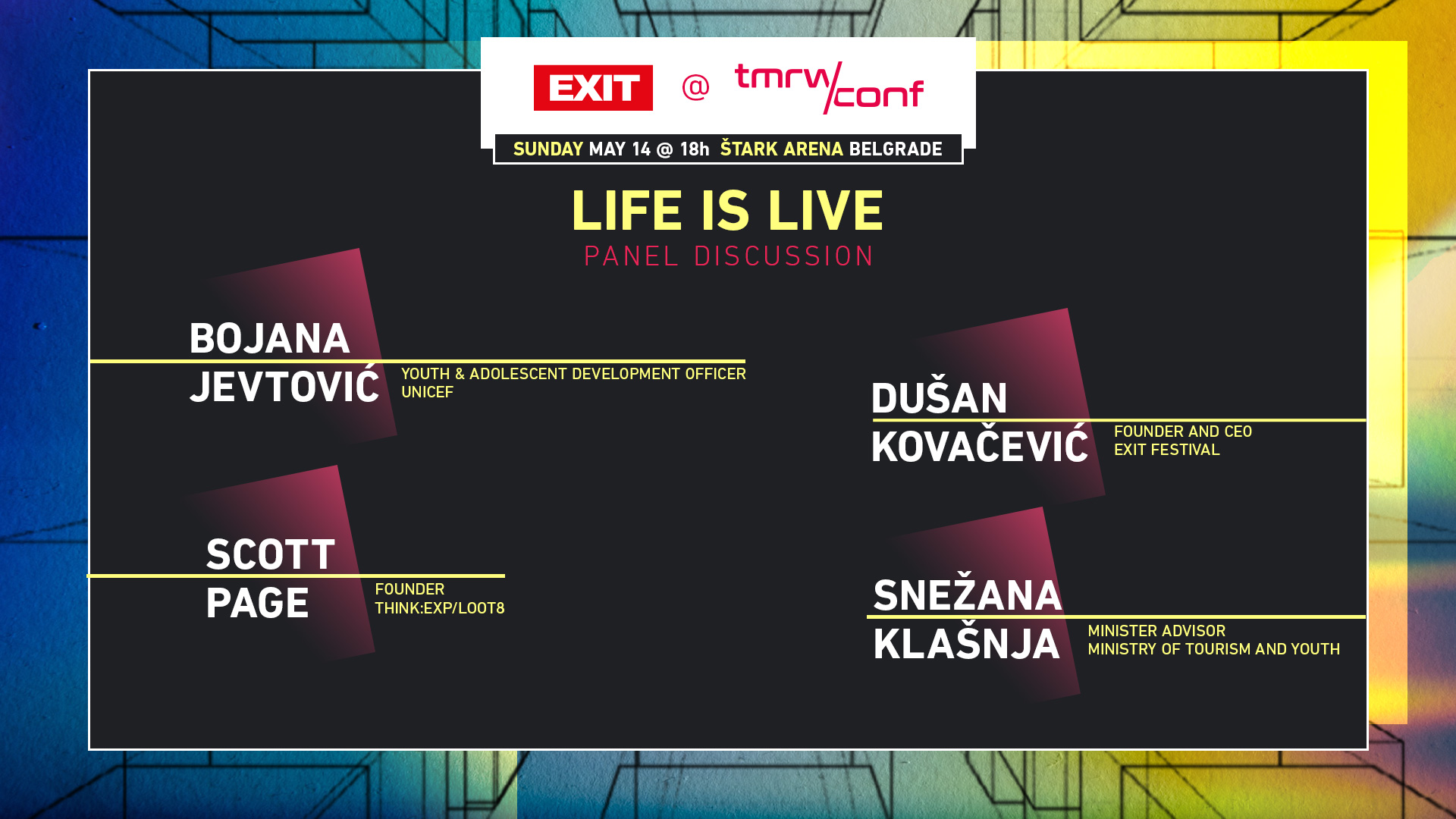 Dependence on technology is a hot topic at the moment, and it will be the focus of Exit's "Life is Live" panel, which is set to close this year's edition of the TMRW conference on Sunday, May 14 at 5:55 pm in Štark Arena.
Bearing in mind that statistics show that, in this day and age, this form of addiction is more prevalent than any, especially among young people, the panel participants will deal with the topic of youth mental health, the progress of technology, as well as ways to reduce its harmful effect on society.
The "Life is Live" panel will feature musician and expert in digital technology, one of the members of the legendary rock group Pink Floyd, Scott Page, adviser to the Minister of Tourism and Youth for youth policy Snežana Klašnja, UNICEF adviser in the program for the development of adolescents and young people Bojana Jevtović, and founder and director of the EXIT festival group Dušan Kovačević.
Experts in the fields of mental health, law, youth development and politics, and digital technologies, as well as representatives of the music and festival industry, will use this discussion to try and answer some of the burning questions of the modern age – how will the further development of technology, virtual reality and metaverse, and the expanding influence of Web 3.0 influence a situation in which technology dependence among young people is already more prevalent than all other forms of addiction combined. This panel will propose strategies through which the IT and music industries could join forces with communities to attempt to solve the acute problem.
The founder and director of Exit, Dušan Kovačević, pointed out that digital identity is already a priority for many young people and that only a handful of people understand how rapidly this problem will worsen. "Research shows a direct correlation between technology dependence and the rapid deterioration of mental health in young people," Kovačević added. At this moment, more than ever, the development of the digital world and digital violence, as well as the attitude of young people towards it, is a hot topic.
EXIT Festival's core philosophy when it comes to Web 3.0 is to combine the best of the digital and real worlds to give people the best possible experience. That is why this year, in cooperation with Yourope – The European Festival Association, they will start an extensive campaign called "Life is Live," which aims to show young people that real-life experiences do not have a proper digital counterpart. The panel at the TMRW conference is just one in a series of activities through which EXIT will deal with the mental health of young people. As before, the organization's mission is to leverage festivals, the creative industry, and social activism to keep creating positive social change and continually improve the organization at every step, together with direct collaborators, people around them, and society in general.
One of the biggest technology summits in Europe, the TMRW conference will begin with an EXIT Dance Arena Belgrade Takeover event featuring a performance by the world's leading producer and DJ, Paul Kalkbrenner, on Friday, May 12, in Štark Arena. At the three-day conference, visitors can expect a series of discussions, access to the exhibition and conference hall, special NFT gifts, and endless opportunities for networking with the most prominent experts and fans of blockchain technology, NFT, metaverse, and gaming.
Tickets for the second Belgrade edition of the Tomorrow conference are on sale at the best prices and are available at tmrwconf.net.
Tickets for Paul Kalkbrenner's show in Štark Arena are available on the festival website.