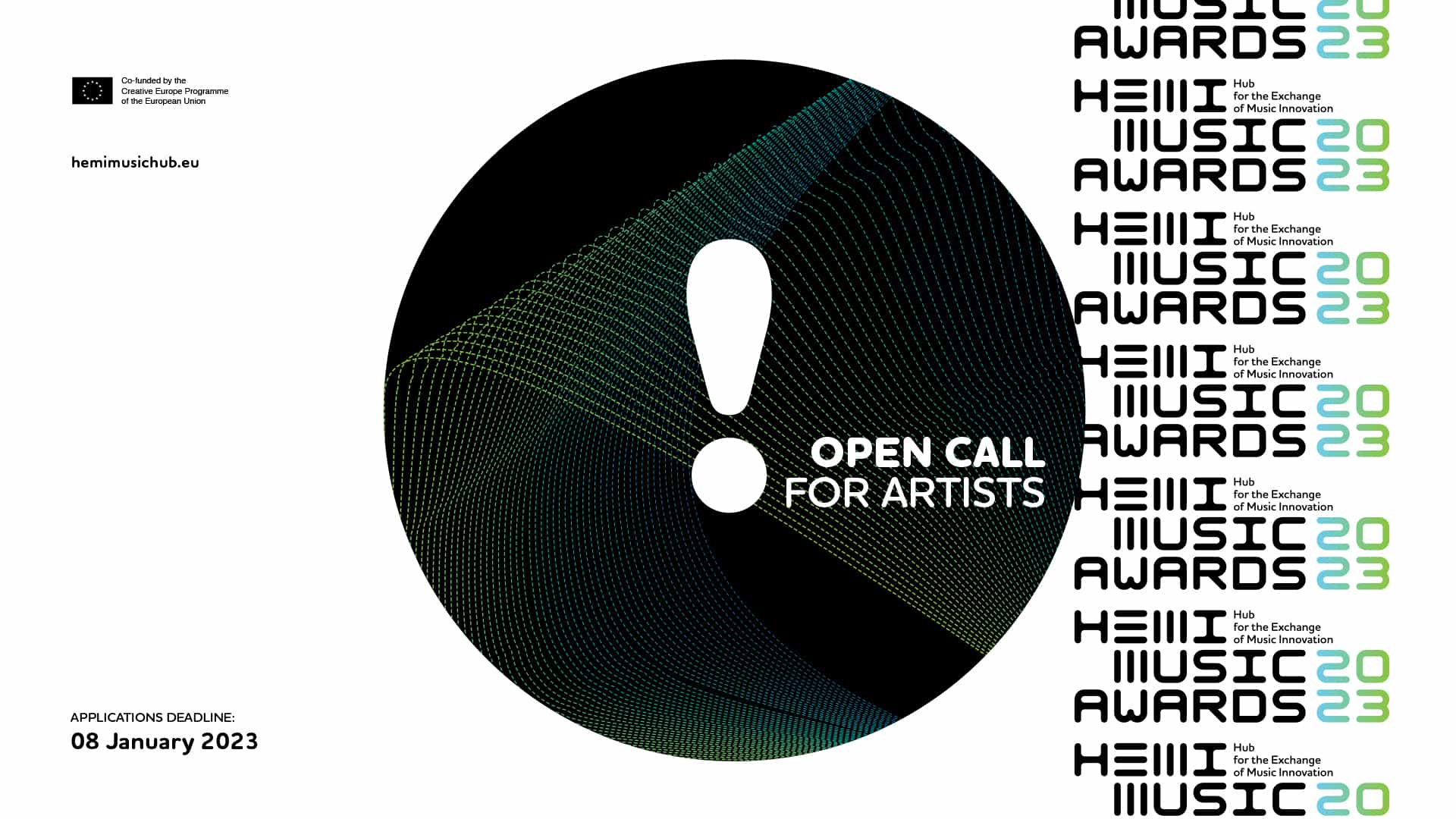 The call for the HEMI Music Awards (HMA) for 2023 is open.
The Hub for the Exchange of Musical Innovation (HEMI) offers solo artists and bands the opportunity to accelerate the development of their international careers through a training programme, networking, and collaboration with music experts, supported by the Creative Europe Programme. The prize for the winner will be 5,000 euros to cover the costs of the content creation, promotion and performance at a major European music festival, and the contest will be open until 8 January.
As many as 27 performers and bands from nine European countries of Central and South-eastern Europe will be selected in the first phase of the Hemi Music Awards 2023. Nine finalists will advance to the second phase and thus get the opportunity for personalised support from international experts from the music industry, along with promo support and a tour at ten leading festivals and music conferences across Europe, including:
Athens Music Week (Greece), BUSH (Hungary), EXIT festival (Serbia), Mastering the Music Business (Romania), MENT Ljubljana (Slovenia), PIN (North Macedonia), Reconnect (Czech Republic), Tak Brzmi Miasto (Poland), Tallinn Music Week (Estonia) and Wianki festival (Poland).
An independent international jury consisting of 27 members is responsible for the selection of registered candidates, including experts from the music industry, festival organisers, promoters, club managers, music export offices and music journalists from nine HEMI countries (Czech Republic, Estonia, Greece, Hungary, North Macedonia, Poland, Romania, Serbia and Slovenia).
Applicants must be over 18 years old and live in one of the HEMI countries. The deadline for entries is Wednesday, 8 January 2023, at 11:59 p.m. Any genre of music will be considered, and applications are free of charge. Applications are available on the HEMI Music Hub website, where you can find more information and details about the selection process.
This year's HMA winners, the Romanian art-rock band Zimbru, were announced at the PIN music conference held in Skopje from 24 to 26 November. Seven more HEMI performers were presented during the Showcase evening, including Aiko from the Czech Republic, Deva from Hungary, Pantaloons and Lelee from Slovenia, Puuluup from Estonia, KOIKOI from Serbia and Lufthansa from North Macedonia. The winner of HMA 2022 will perform at the Eurosonic Festival (ESNS) in January, where KOIKOI, this year's finalists from Serbia, will also take part.
About the HEMI Project
HEMI music awards (HMA) is a programme for talented musicians who are ready to develop an international career and whose goal is to reach new markets and audiences. These music awards are organised by HEMI (Hub for Exchange of Music Innovation), a European initiative aimed at supporting artists and music industry professionals from HEMI countries.
The Hub for the Exchange of Musical Innovation (HEMI) is an initiative of 10 music organisations in Central and South-eastern Europe, established in cooperation with the Creative Europe Programme of the European Union, lasting four years (2020-2023). This partnership includes public and private organisations, associations, festival and conference organisers, export offices and a music business school.
The vision of the HEMI project is to create a sustainable "music hub", which aims to develop innovative business models, co-production, and co-promotion of new events/products, create an incubator for music professionals and support performers to meet the current market needs.
More information on the HEMI Project at: www.hemimusichub.eu