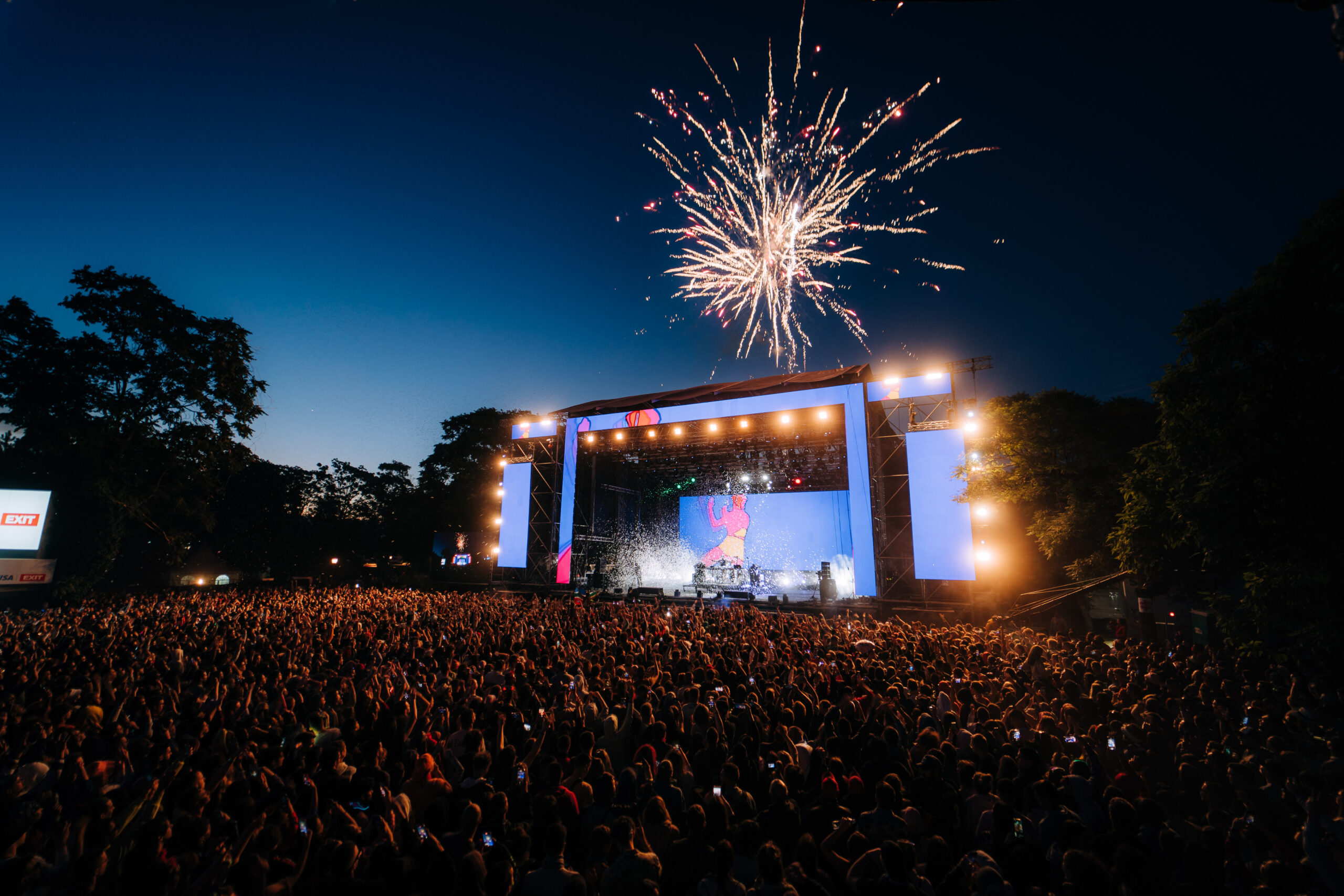 The EXIT Festival gates open on Thursday, July 6, at 7 p.m., and more than 200,000 visitors are expected to pass through them in four days! On this page, you can find the most important information about this year's edition.
Prepare to enter the EXIT Universe from July 6 to 9, rocketed by Gorki List! Touching down for the event are headliners of the most in-demand world tour, The Prodigy, rap gods Wu-Tang Clan, Grammy record holder Skrillex, along with Eric Prydz, Nina Kraviz, Amelie Lens, Indira Paganotto, Alesso, Viagra Boys, Dimitri Vegas & Like Mike, Claptone, Keinemusik, Hot Since 82, CamelPhat, Ben Böhmer live, Agents Of Time live, Mind Against, Chase & Status, Sofi Tukker, LF System, Mahmut Orhan, and Burak Yeter.
Also joining the lineup are Layla Benitez, Gioli & Assia live, Gheist live, 8Kays, Marko Nastić, Tijana T, Space Motion, Coeus, Kristijan Molnar, Human Rias, Mene, Ben UFO, Anetha, Avalon Emerson, Carlita, Desiree, Shimza, Cici, Patrick Mason, Partiboi69, Koboyo, Raven, X-Coast, Ignite, Wolfbrigade, Midnight, Cockney Rejects, Exciter, Massacre, The Toasters, Dry Cleaning, Rudeboy, and many others. The complete lineup can be found here.
TICKETS
Online ticket sales have finished. Day tickets can still be purchased at official points of sale in Serbia, as well as at festival gates.
Four-day tickets must be exchanged for festival wristbands.
Working hours and locations:
In the city center:
Tuesday, July 4th: 12-22h
Wednesday, July 5th: 12-22h
Thursday, July 6th: 12-24h
On the camping site:
Tuesday, July 4th: 12-22h
Wednesday, July 5th: 12-22h
Thursday, July 6th: 12-24h
At the Fortress (the exact location can be found here):
Tuesday, July 4th: 10-20h
Wednesday, July 5th: 10-20h
Thursday, July 6th: 10-03h
Friday, July 7th: 18-03h
Saturday, July 8th: 18-03h
Sunday, July 9th: 18-03h
The festival wristband is worn on the left hand, is valid for one visitor, and allows one entry each festival day from 7 p.m. to 3 a.m. Visitors are not allowed to remove their festival wristbands during the festival.
ENTRANCES
The EXIT gates open every day at 7 p.m. and close at 3 a.m., after which entrance to the Fortress is no longer possible. Due to the expected high crowds at the festival, EXIT appeals to visitors to come early to avoid delays at the gates. Visitors can only enter the festival once during one evening.
Visitors are obliged to have an identification document on their person at all times. Aside from the festival security, the entrances are also monitored by the police to prevent prohibited items from being brought onto the grounds.
LINEUP, TIMELINE, AND MAP
EXIT 2023 lineup can be found here, while the timetable is available here.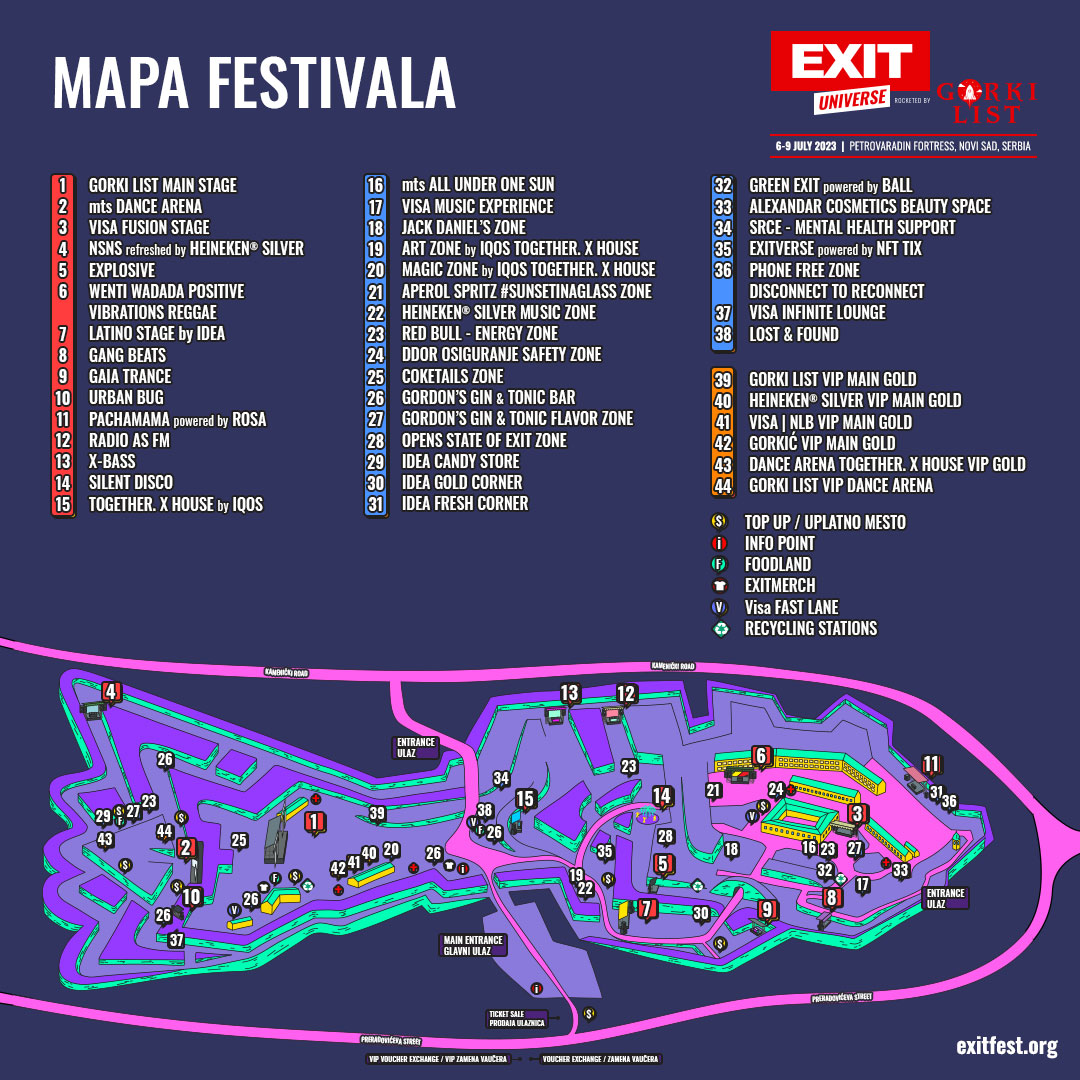 Billboards depicting a precise map of the festival and all the stages, info desk, emergency services, etc., will be displayed at the Petrovaradin Fortress. Visitors can find flyers containing the map of the festival and the timetable at the info desk and with the promoters.
EXIT FESTIVAL TO BE OPENED FROM SPACE THIS YEAR
In the year when it reaches the scale of the EXIT Universe, EXIT festival will kick off on Thursday, July 6, with a historical event – it will be the first-ever festival to be opened from space, in collaboration with the Committee for Space Program Development!
The beginning of the festival will be marked by not one but three opening ceremonies. The first will begin with an ancient cacao ceremony accompanied by a performance from the Sarasvati Druna band at 7:30 p.m. at Pachamama stage, followed by a magical performance by sound alchemist and visionary Vylana Marcus at 9 p.m. at mts Dance Arena. The prelude to the grandest of the three ceremonies will be delivered by philanthropist, motivational speaker, and the founder of the global brand Onnit, Aubrey Marcus, at 10:30 p.m. at Gorki List Main Stage. All this will culminate in the unprecedented festival opening from space, sending a powerful message to the world!
FESTIVAL CAMP
EXIT camp, the most popular festival accommodation in Novi Sad, will again be located on Štrand, the most beautiful sandy beach on the Danube, from July 4 to 11.
Aside from the standard offer consisting of indoor showers with hot water, toilets, a variety of food and drinks, a camping equipment store, a charging station for electronic devices, and lockers for personal belongings, visitors to EXIT camp will have a musical program from 5 p.m. to 8 p.m. each day. The camp has opened its doors, check-in and check-out are available 24 hours a day, and the reception is open all day and night until July 11.
TAKE A TRAIN TO EXIT!
EXIT Festival and Serbian Railways have again decided to delight festival-goers, making the journey to Petrovaradin Fortress easier and faster! Again this year, special train lines between Belgrade and Novi Sad are being introduced, with trips lasting less than an hour. In addition to more than 30 regular daily departures, extra services will also be organized.
Trains will leave Belgrade for Novi Sad at midnight and 1 a.m. and leave Novi Sad for Belgrade at 1:30, 2:30, 3:30, and 4:30 a.m. All trains will stop at the Petrovaradin train station, located near the Fortress, as well as at the stations in Novi Beograd, Batajnica, Nova Pazova, Stara Pazova, Inđija, Beška, Sremski Karlovci, and Novi Sad. Tickets for the extra lines can be purchased via the Srbija Voz mobile app or website with a five percent discount, as well as at ticket counters and ticket machines.
EXIT MOBILE APP
All important information about EXIT 2023 artists and performances can also be found in Woov app.
EXIT FESTIVAL PAYMENT CARD
The Festival Payment Card is the official and only form of payment for drinks, food, and other products at EXIT festival. It will be available at all top-up points at the festival and camp (only for visitors staying there). It is possible to top up the card in cash or via a credit/debit card. You can only top up the card in Serbian dinars (RSD). No other currency can be used. Visa payment card users automatically receive a 5% – 15% discount on drinks.
It is possible to recover unspent funds at any time at cash desks set up for this purpose (marked "refund"). Any refunds must be made at the festival, as subsequent refunds will not be possible. You can find detailed information about the EXIT Festival Payment Card here.
FOODLAND
At the central Foodland, located opposite the main entrance to the festival, visitors will be able to buy pastries, sausages, sandwiches, crepes, pizza, pasta, grilled food, Chinese food, coffee, tea, corn dogs, fried sprats, chips, tornado potatoes, burgers, popcorn, chicken wings, fish burgers, Wiener schnitzels, salads, and chicken nuggets.
Foodland near the Academy of Arts will offer grilled food, pizza, sandwiches, crepes, sausages, Index sandwiches, gyros, salads, chips, shredded pork, corn dogs, chicken nuggets, and popcorn, along with vegan food, freshly squeezed juices, coffee, and tea.
At Foodland in Gornji Grad, near Museum, visitors will be able to buy sausages, chicken, chips, sandwiches, Index sandwiches, pizza, crepes, veggie burgers, popcorn, chimney cakes, coffee, and tea.
For all festival campers, there is also a Foodland at Štrand featuring a wide selection, including egg-based breakfast foods, risottos, salads, grilled foods, pizza and crepes, freshly squeezed juices, and coffee.
Also, nearly every stand offers vegan food.
EXIT MERCH
Official EXIT merch is available in EXIT shop near the main festival entrance, in front of the central Foodland. Here, visitors can buy EXIT t-shirts, sweatshirts, bandanas, and other accessories using their Festival Payment Cards.
EXIT FESTIVAL RULES
YES – backpacks (no bigger than school-sized)
YES – hats/caps
YES – lighters
YES – mobile phones and tablets
YES – sunglasses
YES – cigarettes and electronic cigarettes
YES – small umbrellas
YES – raincoats
YES – contact lens cleaning drops
YES – cameras and camcorders (with official press accreditation)
YES – insulin (with diabetic booklet and personal documents)
YES – medicines (with original doctor's report and original packaging)
NO – drugs and opiates
NO – knives and other weapons
NO – bottles and cans
NO – instruments
NO – food and drink purchased outside festival grounds
NO – tents
NO – pets
NO – large umbrellas
NO – blankets
NO – selfie sticks
NE – GoPro sticks
NE – GoPro cameras
NO – external batteries
NO – drones
NO – banners with hate speech aimed at religious and racial affiliation, sexual orientation, etc.
NO – deodorants and perfumes
LOST AND FOUND
Lost & Found tent is located at the central Foodland (opposite the festival's main entrance). This is where visitors can leave anything they find at the festival (ID cards, mobile phones, wallets, etc.) They can inquire about items they have lost at this counter or write an email at [email protected].
PARKING
There is no festival car park for visitors. The nearest parking lot is across the river, before the Duga bridge, or in Petrovaradin. Traffic in the surrounding streets is suspended during the festival. Driving from EXIT camp to the festival is not recommended. Due to heavy traffic on the approach to Petrovaradin Fortress and the fact that several streets in Petrovaradin are closed, driving can take much longer than walking or taking the bus.
LOCKERS
This year, festival visitors can rent small and medium-sized lockers equipped with electric outlets to store their personal belongings. Lockers can be rented at the festival in the central Foodland for one evening or all four festival nights.
FIRST AID
Red Cross crews, emergency services, and the fire department are on duty during all four nights of EXIT. Depending on the sound volume at concerts, there is a risk of hearing damage and other health problems. Depending on the type and strength of lighting effects, there is a risk of vision impairment and other health problems. Visitors can turn to security personnel in distinctive fluorescent vests if they need assistance.
PSYCHOLOGICAL SUPPORT
Psychological support points will be set up in several locations this year – in EXIT camp, Foodland, and the festival's OPENS State of EXIT zone. The goal is to provide festival-goers with a supportive place to rest and have a confidential conversation.
EXIT INFO DESK
At any time, visitors can reach out to promoters at the information desk, conveniently located near the Gorki List Main Stage and the central Foodland.
EXIT LIVE
A live stream of selected EXIT performances will be broadcast on the Facebook page and YouTube channel. Fans will be able to see the most exciting festival moments on Instagram and TikTok, while a selection of awesome photos from EXIT 2023 will be available on our Flickr account.