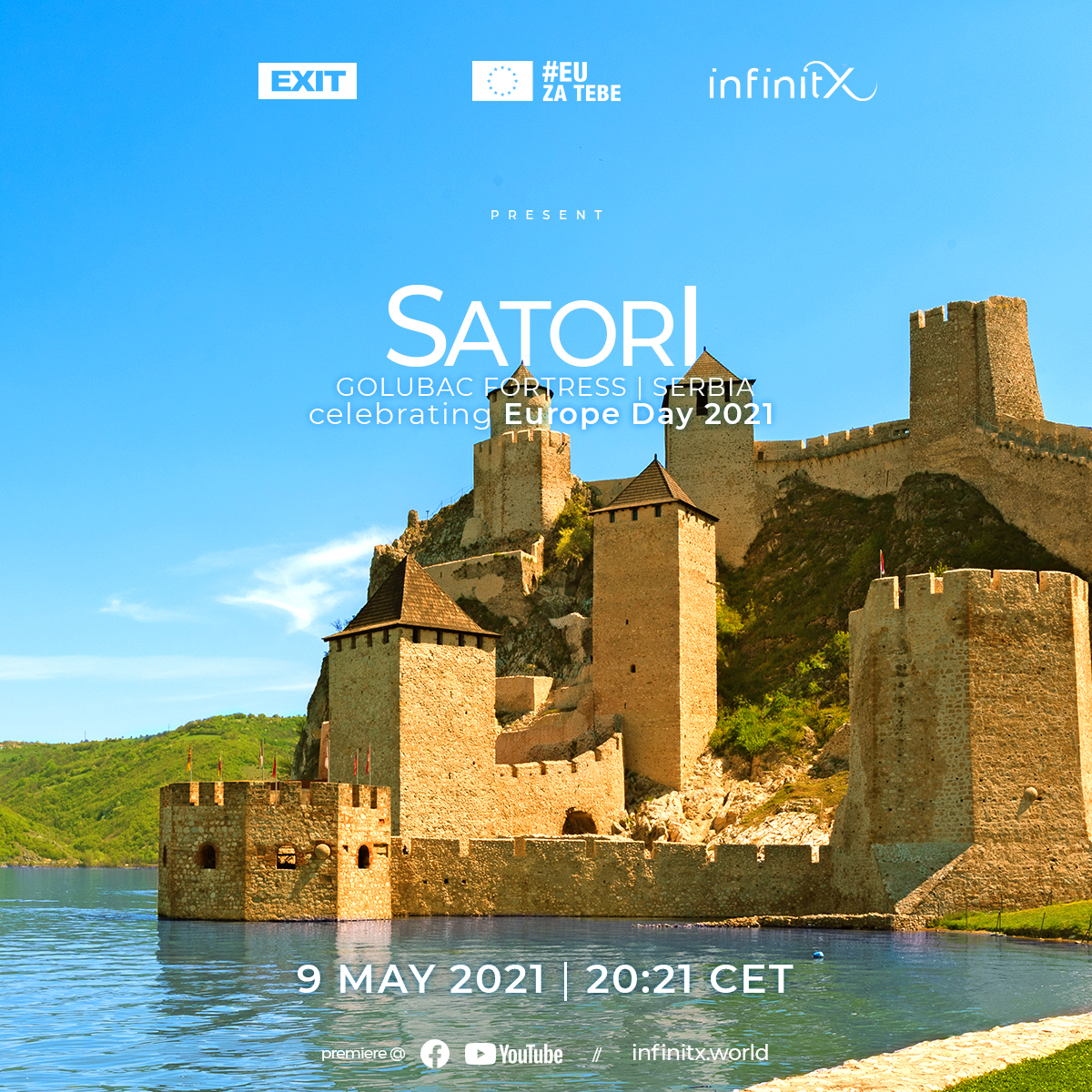 After the launch of the InfinitX project featuring Charlotte de Witte at Budva's Mogren Fortress, which was viewed by more than three million people powered by Beatport, EXIT continues to combine the biggest music names with the most beautiful locations to present to the world a part of the beauty and rich history of Serbia.
On Sunday, May 9, Europe Day EXIT in cooperation with the Delegation of the European Union to Serbia brings a special performance of the highly esteemed Dutch artist Satori, which was filmed at the beautiful medieval fortress Golubacki grad. The musical journey will be premiered at 49th edition of one of the longest-running and most influential film festivals in Southeastern Europe, the Belgrade FEST. "Satori at Golubac Fortress: Voices Of 9 Towers" will be able to be seen on the official Facebook page of EXIT festival and Beatport's streaming channels including Facebook, Twitch and YouTube at 8:21PM.
This performance is also the announcement of Satori's new album in EXIT's production, which will present Serbian and Balkan traditional music in a modern arrangement.
Victory Day, May 9th, has been celebrated as Europe Day since 1964, and promotes peace and unity on the continent. "I believe that music unites people, that it has the power to be above all borders, cultures and authorities, and to unite people. I don't think we can be any closer to peace than that, can we? For me, peace is when we are all together and dancing. That is "Satori's moment", he said in the film Satori, during the conversation with the founder of EXIT festival, Dušan Kovačević.
Satori immensely appreciates Balkan ethno music, and that inspiration from this region will be felt in his set from the Golubac Fortress, where there was room for a special guest from Serbia, singer and actress Milica Majstorović. Thanks to the fantastic atmosphere on the set, inspired performers and a well-coordinated video team, InfinitX "Golubac – Europe Day" will promote the destination and its cultural history to millions of viewers around the world, which were previously impossible to reach. Streamed DJ sets from beautiful tourist locations have additionally become topical in the age of the coronavirus pandemic, giving people inspiration for their next travel destination.
Satori's InfinitX performance was filmed at the monumental Golubac Fortress, located on the banks of the Danube and at the very entrance to the Djerdap Gorge. This awe inspiring fortification was recently reconstructed with financial help from the European Union and is now open to visitors.The reconstruction lasted for almost five years, with the big financial support of the European Union. The European Union continues to support the restoration of many cultural heritage sites in the country, such as the Bac, Fetislam fortresses in Kladovo and Pirot, and encourages the development of local tourism, especially in eastern Serbia.